Incentives
First Timers – New Client Coupon for Your First Visit
We invite you to take advantage of our special offer of 10% off on your first visit to Milford Body Therapy.
Our coupon must be presented in order to take advantage of this special offer: so please click here to print out your New Client Coupon.
Please arrive 10 minutes early for your first visit so that you will have time to fill out the health form and transition in our comfortable waiting room. (If you are late, you may lose that portion of the session.)
If you have any questions or concerns about your massage or training session, we will gladly speak to you prior to your session so you can feel confident and at ease.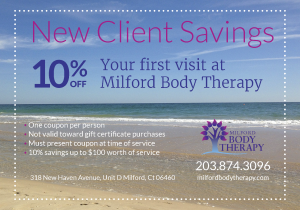 Bundles
The Milford Body Therapy "Six Plus One" Package
Purchase 6 of any of the following services …and the 7th is FREE!
1/2 hour massage
1 hour massage
90 minute massage
Ashiatsu Oriental Bar Therapy
Sports Massage
Ashi Thai
Stretch Therapies
Thai Massage
Thrifty-Three Pack
Three-60 minutes $260
Three-90 minutes $380

Rescue Pack RX – NO MORE PAIN
A combination of mobility, balance, strength training and massage therapies to quickly reduce pain and educate you for immediate use at home!
Four 30 minute sessions
in a 2 week period – $180
Rescue Pack RX Supreme
Four 45 minute sessions
in a 2 week period – $280

Couples Care Package
Purchase six sessions (all the same value) for the couple that likes to receive massage at the same time on a regular basis (separate rooms)
Six sessions to be shared by the Couple – $490
Referral Incentives
You are a very valuable client to us, and establishing and maintaining a positive, ongoing relationship is important. Please remember that we offer referral incentives! When you refer a new client to us, you will save money on your next session. Your kind words about our establishment are priceless.
Our Cancellation Policy
Your appointment time is reserved solely for you, and your therapist is being compensated for your scheduled time. Only if you cancel or reschedule with sufficient notice can we refill your time with another client. We must therefore request that you provide more than 24 hours notice (or that you send a friend or relative in your place). Otherwise, we will charge you for the session.