Incentives
First Timers – New Client Coupon for Your First Visit
We invite you to take advantage of our special offer of 10% off on your first visit to Milford Body Therapy.
Our coupon must be presented in order to take advantage of this special offer: so please click here to print out your  New Client Coupon.
Please BE CERTAIN TO FILL OUT YOUR INTAKE FORM AND COVID SCREENING BEFORE your first visit so that you will NOT BE DELAYED IN THE START OF YOUR SESSION. These links are attached to your confirmation email or text when you first make the appointment.
If you have any questions or concerns about your massage or training session, we will gladly speak to you prior to your session so you can feel confident and at ease.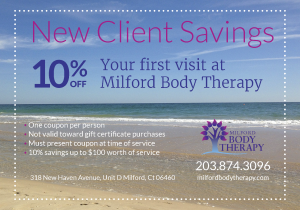 Referral Incentives
You are a very valuable client to us, and establishing and maintaining a positive, ongoing relationship is important. Please remember that we offer referral incentives! When you refer a new client to us, you will save money on your next session. Your kind words about our establishment are priceless.
Our Cancellation Policy
Your appointment time is reserved solely for you, and your therapist is being compensated ONLY WHEN YOU ARRIVE for your scheduled time. If you cancel or reschedule with sufficient notice can we refill your time with another client. We must therefore request that you provide more than 24 hours notice (or that you send a friend or relative in your place). Otherwise, we will charge you for the session. Credit card information is required for new clients whom schedule with us. THIS IS TO HOLD YOUR TIME SLOT. WE DO NOT CHARGE the card until after your session has been completed, should you choose a different form of payment.