Niki Weber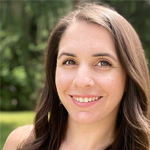 Niki Webber has been a licensed massage therapist since 2009 and holds licenses in both Connecticut and New York State. Over the last several years, she's come to find that bodies become hardened by lack of movement or excessive stress on the muscles and joints. To combat this, Niki offers her unique blend of therapeutic massage as well as personal training at Milford Body Therapy.
Niki's therapeutic massage combines several different modalities. While her work is slow and deep, her incorporation of trigger-point therapy and neuromuscular therapy often has clients falling asleep beneath her fingers. She recommends that if clients have more than one area of focus, a 75 or 90 minute treatment would be best if a full-body massage is desired. At no additional charge, cupping can be incorporated in a therapeutic massage. Niki also offers specialty treatments such as Ashiatsu Bar Therapy, Table Thai stretching, Reiki, Prenatal Massage and cellulite reduction treatments. 
With the belief that movement is medicine, Niki often brings massage clients into the gym to recommend stretches based on session findings. In 2011, Niki graduated from Focus: Personal Training Institute in New York City and taught group fitness at several Crunch Fitness locations until the beginning of the pandemic. In 2022, she graduated from the Yoga Renew Yoga Teacher Training. She is available at MBT for 1:1 personal training sessions that include a mixture of weight lifting, yoga and Pilates-influenced movements. Whether you want to feel better or continue feeling well, Niki is enthusiastic about being part of your personal care team.
Testimonials:
"I am someone who gets intense muscle spasms and I have been treated by quite alot of massage therapists in the past. I first went to Niki over 4 years ago and I have not gone to anyone else since. Niki has a true and thorough understanding of how to massage muscles to not only work out knots, but also delivering an amazing massage that is also relaxing. She also uses different techniques depending on what the issue is or where the pain is located. I've also gone to her for massage when I've been feeling tense and anxious. By the end of the massage I feel like a limp noodle – totally physically relaxed! Niki is also very professional and at the same time very kind and empathetic. If you are looking for a massage therapist that really does her best to help you, you have found her. I highly recommend Niki!"
-Jeannette R. 
---
"I highly recommend Niki. She is amazingly talented and gifted at her craft. I suffer from two chronic pain conditions/autoimmune illness and a back/neck injury from MVA. I prefer holistic treatments rather than medications or pain killers. She is the only therapist I've been too who can treat my discomfort in order to give me some relief & quality of life. Thank you Niki from the bottom of my heart!"
-Melissa W
---
"Niki works wonders. She knows exactly where you need release and does it painlessly. After many massages at different places, I've finally found a therapist that gives me the relief I've been seeking. Highly recommend."
-Isela P
---
"I had a massage from Niki and she was fantastic.  I have had back pain for more than a year and nothing has helped; after my massage I woke up with no back pain for the first time in many, many months!  Thank you Niki, I will see you soon!"
-Christine L
---
"Working with Niki has been life changing. I was in SO MUCH pain a few months ago and now I feel so much better. Thanks for all you do!! MBT is absolutely fantastic and I highly recommend it to everyone!"
-Shep S
---
"Niki was attentive and listened to my explanation of pain I'm experiencing. She knew exactly what the issue was and focused closely on that area. She also recommended some postures and exercises to help with the problem. I look forward to my next appointment."
-Jessica D